Carpet Flooring Prices: Costs You Should Consider
Getting Started
Before shopping for carpet, it is important to set a budget and consider all costs involved. Walking into a couple stores and comparing cost per square foot will not provide the full picture. For accurate comparison shopping, it is important to know the estimated square footage of the room(s) to be carpeted, the cost of padding and installation, as well as any additional fees the retailers charge.
Measure The Space
The basic formula for Area is Length x Width. Turn odd areas into rectangles by multiplying the largest dimensions in both directions.
Rolls come in 12' widths, so rooms with one dimension smaller than 12' are easy to estimate. For example, in an 15' x 11' room, you will need 15 linear feet from a 12' roll. Although you will only use 165 square feet (15×11) you will have to purchase 180 square feet (15 x 12).
For rooms where both dimensions are more than 12', estimating becomes more complicated. If your room is 18' x 22', 22 linear feet of a 12' roll will leave a 6' strip uncovered. Although you could easily figure cut pieces to fill in the strip, the result may be less than attractive. The goal in installing carpet is to end up with as few seams as possible. Also, if you have a textured or patterned carpet, matching the pattern at the seams is vital for a polished look and may result in additional waste.
Leave the layout to the professionals. For the purpose of setting a budget and keeping salespeople honest, the rule of thumb is to figure the square footage of the room(s) and add 10% (multiply by 1.10). While the actual figure may be closer to the actual measurements or as much as 20% more, 10% arms you with a good estimate.
Don't forget to include closets when you measure. And also, keep in mind that some carpet is still priced and sold by the yard. One square yard equals nine square feet. (3'x3'). To figure the amount of square yardage you need, divide the square footage by nine. And to convert a per-square-yard price to square feet, divide by nine.
Padding & Installation Expenses
Padding and installation may not be the beautiful, exciting part of the process, but they are vital to a successful carpet purchase. For more details as to why, refer to the padding and installation sections. Padding ranges from $.30 to $.60 per square foot, and installation adds another $.50 per square foot.
Some retailers will discount pads and/or square footage and may even offer one or more for free, but they are probably making up for it in product cost. When comparing prices between retailers, figure the total cost of carpet for your estimated square footage, then add the cost of padding and installation so you can compare apples to apples.
Additional Fees
At each place where you shop, ask about additional fees. Even after accounting for carpet, padding and installation, there may be more costs before reaching the bottom line. Shops commonly charge separately for carpet removal, dumping, product delivery and transition strips, for example, and trim like quarter round or base molding may need to be replaced.
Subfloor issues can also add costs to a flooring project. Consider having your floor inspected, especially if certain areas protrude or sag under foot.
Beware of deals that seem too good to be true. Companies that promise to carpet "any room" for an incredibly low price may charge far higher than average prices for additional rooms or for rooms larger than 10' x 10'. Read all terms carefully.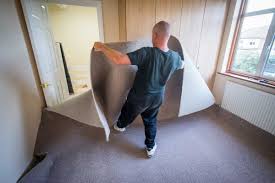 Carpet cost based on durability and living situation
Maybe you don't know what carpet material you're going to buy yet. If that's the case, you still know where the carpet will be installed and what you need out of it. Here are estimates on carpet prices based on different situations:
Apartment or rental: $1.00 sq.ft. ($9 sq.yd.)
Low-grade home: $1.50 sq.ft. ($14 sq.yd.)
Durable home: $4.50 sq.ft. ($40 sq.yd.)
Luxury home: $10 sq.ft. ($90 sq.yd.)
*these prices are for carpet only. padding and installation not included (these fees are covered below)
I could dedicate an article to each "situation" above, but it would bore you. Let's cover a few highlights and assumptions on each situation:
Apartments and rentals' typically will go with an inexpensive carpet for two reasons: it allows them to replace the carpet more often for new tenants, and it makes it less of a risk if a tenant damages the carpet.
Apartment and rentals' can get their square footage price closer to $0.50 per square foot with bulk orders and negotiating power.
Low-grade home' carpet is great for temporary situations, tight budgets, or rooms that aren't used often. In high traffic areas, it will only last a couple of years. But if it's a guest bedroom, it will last a long time since foot traffic is what destroys carpet.
Durable home' carpet is for the typical homeowner. They want a carpet that keeps its new appearance as long as possible. You can spend up to $10 sq.ft. here, but when you start going above $6-7 sq.ft., you start paying a lot for little improvement in durability.
Luxury home' is when you want a carpet that stands out. These carpets are often made of natural materials like wool.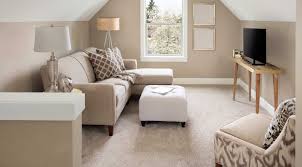 Cut Pile Carpet
Cut pile carpets cost $1 to $12 per square foot. The name describes a process where the woven loops are all cut to the same height and tufted at the ends. The resulting appearance is dense and soft. This type includes four subcategories:
Saxony or Plush: The most common type, this looks like a freshly-mowed lawn. It's subject to fluffing or shedding, however, so it may last 5 to 10 years longer in low-traffic areas.
Textured Saxony: This style features twists to create a permanent curl and resist lines and wear. It's great for medium-to-high-traffic areas.
Frieze: This yarn twists more tightly than textured Saxony, so it actually curls over. It creates a durable product that resists lines and works well in high-traffic areas.
Cable: Known for its thicker and longer yarn, this carpet offers the softest comfort. However, it is subject to wear and matting, making it practical for low-traffic areas.Loop Pile Carpet
Loop pile carpet runs $1 to $5 per square foot. This style features uncut yarn. It is commonly used in high-traffic areas of homes and businesses. Since the loops connect to the backing on both ends, it is incredibly durable and resistant to lines. Products may include:
multicolored threads to hide dirt and stains
low-and-high-profile areas to add texture and concealment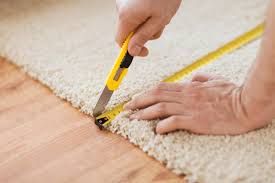 Get a Rough Estimate of Replacement Flooring Costs
calculatoronhouseThere are 5 steps to getting an approximate idea of how much a new floor will cost. They will help you form a rough estimate on the replacement cost for a new floor. At the same time as calculating a rough estimate for yourself we recommend getting a free quote from a trustworthy professional installer as a comparison guide.
Step 1: Determine the Total Square Footage Required
Since all types of flooring are sold by the square foot or square yard, knowing how large the area is that you want to cover is the first step. You'll need a tape measure to determine square footage. If you have a blueprint that shows dimension, it will save you from having to make the measurements.
Measure rooms one at a time. It's easiest to measure rectangles, so if you have an "L-shaped" room, divide it into 2 rectangles and measure them separately. The length of the rectangle multiplied by the width equals the square footage. For example, a room, or section of a room, that is 20 feet long and 12 feet wide produces this formula: 20 x 12 = 240 square feet. If the flooring you are purchasing is sold by the yard, divide the square feet by 9. So, 240 square feet / 9 = 26.667 square yards.
Add up the square footage from all the rooms or room sections. That number will be the total square footage being covered.
Step 2: Add 5% for Waste
Trimming the flooring will produce waste. Most manufacturers recommend 5% for waste. If you're installing the floor yourself and don't have experience, you might consider adding 10% for waste. So, if the total square feet to be covered is 1,200, multiple by 1.05 for 5% waste and 1.10 for 10% waste.
1,200 x 1.05 = 1,260
1,200 x 1.10 = 1,320
Step 3: Know the Price Per Square Foot for the Flooring
As you're shopping for floor covering, make notes on the price of the materials. The most common types of flooring material include carpeting, vinyl and linoleum flooring, natural stone flooring, solid hardwood, engineered stone flooring and laminate flooring. They range in cost from less than $2 per square foot for cheap vinyl, ceramic tile and carpet to over $8 per square foot for exotic wood and natural stone flooring.
Step 4: Know the Price of Installation
You've got to get floor replacement estimates from local flooring contractors to find out the price of installation per square foot. The cheapest flooring to install is carpet and laminate. Vinyl and wood flooring are in the middle. Ceramic tile, stone and concrete are the most costly.
Get several estimates to find the lowest prices in your area. If you use an estimate service, the contractors are pre-screened and their bids are usual very competitive because they know you are getting more than one.
Step 5: Put it All Together
Multiply material cost and installation cost by the square footage and add them together.
For example, let's say you're going to hire home flooring pros to install your new carpet rather than installing it yourself. Here's how this looks when you've got 1,200 square feet to cover:
1,200 x 1.05 = 1,260 square feet of material needed.
Average price of carpet per square foot: $4.50
1,260 square feet of carpet x $4.50 = $5,670 for material
Installation of 1,200 square feet x $1.50 per square foot = $1,800 for installation.
Material plus installation, or $5,670 + $1,800 = $7,470
In our illustration, to cover 1,200 square feet with average carpet at average installation costs, you'd pay $7,470. If the flooring installer is going to remove old flooring and dispose of it, there may be additional costs for those services.
How to Choose Your Carpet
There are many considerations that go into the selection of a carpet. While color, pattern, and style are certainly part of the selection process, there are other things to consider as well.
If you own pets, you may want to look at carpeting that can be easily cleaned or that is stain-resistant.
Small children or busy households may also require stain-resistant carpeting, as well as stain-resistant carpet pads.
Material is another consideration. Both natural fibers and synthetic are available, and both will wear differently over time.
The height (or, depth) of the carpet is another thing to consider. Lower naps and Berber carpets are easier to keep clean, last longer, and don't show as much wear. However, carpets with a deeper nap may be more comfortable underfoot.
If the carpeting will be in direct sunlight, you will want to look for a UV-resistant brand to help prevent fading.
If the carpeting will be near an entrance, stain-resistant fibers can help prevent discoloration over time.