A Beginner's Guide to the Many Different Paint Types and Finishes
If you're looking to add a splash of new color to your home, choosing the right type of paint and finish for the job can be a little daunting at first, especially if you're a novice when it comes to paints. Not only are there a multitude of colors to choose from, but there are paints made from different materials and several types of finishes, or sheens, available as well. Different paints also feature their own attributes, such as ease of cleanup and durability, which will impact your project and the final product.
There is a lot to consider, but with just a little research, you can confidently choose the ideal paint and finish for your project and avoid feeling any buyer's remorse once the paint dries.
CONSIDER THE AREA YOU WILL BE PAINTING
This step is important, because certain paint finishes mesh differently with certain rooms. For example, if you're painting your kitchen, you should choose a paint that cleans easily and is fade-resistant, like a high-gloss finish. If you're painting a room that receives ample sunlight, it might be best to stray from shiny sheens that reflect too brightly and instead opt for a matte finish.
PAINT TYPES
Paints are made from a variety of different materials. While the most common paints are water-based and oil-based paints, there are also specialty paints and natural wood finishes that are mineral spirit or thinner-based. There are also paints made from natural oils and alkyds. The paint type you choose could change the entire dynamic of a room or your home's exterior.
Primer and First Coat – It's recommended you first apply a base coat of primer before painting any wall. Interior decorative finishes last much longer and are less likely to peel and crack when a primer coat is first applied. Primer also helps cover up old paint and minimizes the appearance of old stains and even odors.
Water-Based – Water-based paint – either latex or acrylic – is the most common paint type used on interior walls. In general, water-based paints are quick drying, feature easy clean-up, are resistant to cracking and provide a more stable covering. Plus, water-based paints are considered more environmentally friendly, as they carry low levels of toxic emissions (VOCs).
Oil-Based – Oil-based paint is a nice option if you're looking for a higher quality alternative to water-based, as they are more durable, feature a more attractive gloss and possess a smoother finish. It does, however, require turpentine or paint thinner for clean-up. Using oil-based paint on trim while using water-based on the walls is a popular choice, as trim takes more abuse and walls require more frequent cleanup.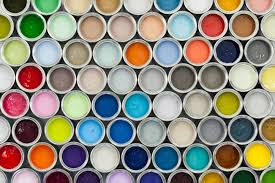 Finishes
There are many types of finishes and while no one finish is better than another, they all have applications that they are best suited for and varying levels of sheen (how much light bounces off of it).
Matte – Matte finishes deliver a pigmented and smooth look, with little to no sheen since they absorb light. They cover imperfections and stains but are not very durable, which means they are best suited for low-traffic areas like a bedroom.
Eggshell – Eggshell finishes are similar to matte finishes in sheen and are one of the most popular finishes. They are perfect for mid-traffic areas such as hallways and living rooms since they are more washable than matte sheens.
Satin – Satin finishes are the most commonly chosen finishes, providing a soft, almost pearl-like sheen. It is ideal for indoor or outdoor use and is resistant to mildew and facing. Satin finishes work well in high-traffic areas such as kitchens or playrooms, as well as areas that are exposed to moisture such as laundry and bathrooms.
Semi-Gloss – Semi-gloss finishes are more reflective than satin, with a smooth and shiny appearance. They are also resistant to moisture and stains, so they work well in high-traffic or high-humidity areas. One downside is that they are more likely to show blemishes on surfaces since they reflect light, so using a primer is an important step before painting with a semi-gloss paint.
High-Gloss – High-gloss has the highest level of reflection, giving a high-shine and glass-like finish to any surface. It is ideal for doors and cabinets, as well as outdoor spots that have great curb appeal, such as shutters. It is also the most durable and easiest to clean of all the paint sheens.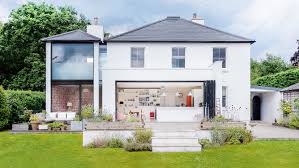 Different paints for different places
Find out at a glance if a paint shade you like is suitable for your space by reading the tin. You'll find that some paints are designed for particular environments: for example, you can buy paint specifically designed to withstand steam and condensation that's ideal for bathrooms. Kitchen paints are moisture-resistant and can withstand grease and stains.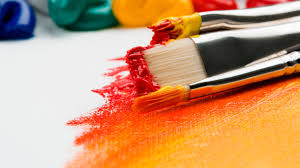 What Is Powder Coating?
Powder coating is a multi-step finishing process. In the first step, a product (usually a metal part) is cleaned and prepared for coating. Next, it is coated with a fine powder. The powder covers the part's surface. In the final step, the part is moved into a curing oven. The product is then heated in the oven, allowing the powder to melt and flow into a uniform coating that adheres to the part. This creates a very durable and attractive coating around the product once the melted powder cools and harden
Acrylics – The Beginner's Choice
Acrylics are widely favored by those just starting out with painting as they are easy to use and do not require any special supplies. The downside is they dry very fast.
Acrylics may suit you if:
You are a complete beginner and do not want to worry yourself with the complexities of oil and watercolor painting.
You want an easy cleanup time.
You are painting on a limited budget.
You enjoy experimenting with mixed media.
You are sensitive to the harsh chemicals involved with oil painting.
The downsides of acrylics are:
The paint dries very fast. This means you only have a limited amount of time whilst your paint is responsive on the canvas.
Some colors darken as they dry (the colors which are lighter tend to have a greater change).