The Best Way To Clean Up Post-Construction Dust
If there's anything that can take away from the joy of a newly renovated bathroom, it's the dust that lingers after. No matter how well your contractor seals off the construction area from the rest of your apartment, dust always seem to find its way through and settle on everything. Fortunately, there are a few simple steps you can take to clean everything up and finally enjoy your new space.
It's not just unsightly to leave the dust lying around. Left unattended, it can end up in your air ducts. So, it's important that you clean up the dust up as soon as possible.
Start at the Top
With that in mind, the first step you should take is to vacuum up as much of the dust as possible. Vacuuming it will remove most of the dust, particularly the loose material that's more likely to shift around if you tried to sweep it up. Don't vacuum in random directions. Instead, start from the ceiling and work down towards the floor, moving in long sideways movements as you go. Take care of the ledges at the top of window and door frames at the same time. Light fixtures and ceiling fan blades could also use a bit of vacuuming while, closer to the ground, lamp shades and electronics should be similarly taken care of.
Once this part of the process has been completed, you're in a good position to start cleaning with soap and warm water over the same spaces. Damp towels will allow you to clean up the remaining dust without merely spreading it around. Any section you've vacuumed over will need to be cleaned in this manner, too. That goes for the air vents as well. Don't be afraid to remove the vent covers and get right in there.
Careful with the Floors
Cleaning the floors will depend more on the type of floor surface. A carpeted floor will typically trap much more dust in it and can be handled with a vacuum, plus a dust brush extension. If you like, you can even use a steam cleaner to more vigorously clean up the ingrained dust. An added bonus that comes with steam cleaning is that less dust will be kicked up into the air.
If you're cleaning a hard-surfaced floor, vacuuming or sweeping is a necessary first step. Don't go straight to cleaning up the dust with a damp mop. You risk scratching the surface with the fine grains of dust you're moving around. A treated dust mop is another option you can use to safely remove the fine particles. Along the baseboards, used dryer sheets are very effective at getting into the nooks and crannies, gathering up dust.
Once the floor dust is gathered up as well as possible, a damp – not wet – mop can be applied to the floor, using a cleaner appropriate to the surface material.
Don't Forget The Ducts
After all these parts of your home are cleaned up, the next thing you'll want to do is vacuum inside your air vents and check your air filters. After all the construction and cleanup, there's a good chance they'll need to be swapped out.
With all these tasks out of the way, you'll now be able to enjoy your new bathroom with the comfort that comes with knowing all remnants of the construction process have been cleaned away.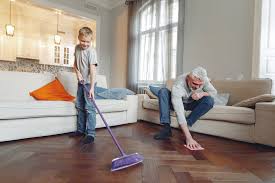 POST CONSTRUCTION – THE CLEAN UP
Post Construction CleaningWhether you are building a new home, commercial building or industrial park, it will need a full cleaning before it can be used on a regular basis. This means cleaning the entire facility from top to bottom, dust, residue and windows are only a small part of the entire cleaning process.
This is a cleaning that requires professional care. Common house cleaning, floors and carpets and the like are not at the same level as post construction cleanup. Extra care is necessary beyond what most people would consider clean because of the nature of the debris.
Some think post construction cleaning professionals are not necessary, and they can do the work themselves without worry. This is not the case. This is a cleaning that can take several days of full time work, time that many do not have because of their own jobs. This is our full time job at Imperial One Cleaning. So while you are working, we are taking care of the cleaning work.
There is often dust and debris left behind that can be hazardous to a family or employees. Correct cleaning standards and techniques are necessary and often mean special clothing, all of which a professional cleaning company will own and know how to use.
Post construction cleaning often means working for long times in awkward positions. Paint, for example, can land in any number of spots. Paint landing behind a toilet needs to be cleaned up and reaching the spot can be very difficult if not uncomfortable. Paint spills on the floors, carpet and such also needs cleaning – all with special equipment and chemicals. Imperial One Cleaning can do it all.
Outside needs cleaning as well since home sites are notorious for nails, left over wood, siding, bricks and more are left behind. More often than not, the waste materials are scattered across the site and will have to be collected. Most professional cleaning services bring in large trailers to haul volumes of trash to recycling centers or appropriate trash locations.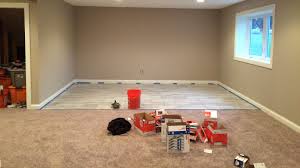 Three good ways for cleaning concrete dust
You can find quite a few tips for concrete dust removal on various forums that you might want to try.
1. Tea towel
When the cement dust is still quite fresh you can try cleaning the concrete dust with a tea towel. Rub the surface of the tiles quite hard with a dry tea towel. This may remove the cement dust, but it is rather hard work and also takes quite a long time.
2. Scrapers
You can also try scraping tools. You must be very careful not to damage the tiles if you choose this method of concrete dust removal.
3. Vinegar mixture
Mix equal parts of vinegar and water (50/50). This acidic mixture works well for cleaning concrete dust. This mixture can damage your tiles, so we recommend that you test it on a surplus tile first. Also be cautious with acids on marble and other calciferous natural stone. Consult an expert for advice if necessary.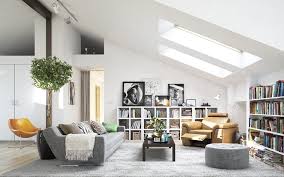 What Steps You Should Take Before Sucking Up Drywall Dust
Be sure to switch off your central heat and air circulation. Doing so will cut down on the dust being collected in your home.
If at all possible, position a powerful fan near your windows within the area you are busy working on. Ensure the fan blows excess dust out of the room. Most of the dust will be sent outside.
Take out as much furniture as you can, especially ones that are upholstered. The last thing you want is having to suck up drywall dust from your upholstery. If there is no other way, then cover your couches or other furniture with painter's plastic and secure the end with bungee cords or strong tape.
Be proactive by cleaning drywall dust during your remodeling project daily. Do not wait around until all the sanding work is done. You may view it as a big waste of time. But, if you leave the dust to settle, then it will be so much harder to get rid off.
Before you start cleaning, be vigilant, and put on a dust mask. The last thing you need is to deal with a runny nose or red eyes. Another issue is facing damaged lungs. Instead, do the right thing and play it safe.
Restore Fresh Indoor Air after a Home Renovation
Check out the following tips to maintain good-quality air inside your home during and after renovation:
1. Observe worksite containment at all times.
Renovating a house can be an exciting time for any homeowner. But it can also be a stressful one. During the entire process, contractors could be coming in and out of your house, bringing in a huge amount of dust and other pollutants.
A great way to lessen the amount of indoor air pollution during home renovation is to contain the worksite. This can be done simply by installing plastic barriers. You can find some in a local home depot. You can also use a tarp but a clear plastic with zipper is a more convenient use.
2. Use air purifiers and scrubbers.
You might consider renting a commercial-grade air scrubber during the renovation. This might be an additional cost but is definitely worth the price. Air scrubbers can effectively get rid of dust and other pollutants in the air, keeping your home interiors smelling clean and fresh.
This tool is specifically designed to draw in construction dust. Place one air scrubber inside the worksite and another outside and leave them turned on the whole time until the renovation is complete. You may need to change the filters from time to time to unclog dust and other particles. You should also run air purifiers in your bedroom and other areas where no renovation work is being done. Dust can easily travel to different places so it is a smart idea to purify air throughout your home.
3. Clean daily.
It may feel like an added task but cleaning your house every day during the entire renovation project is necessary to maintain quality air. You will require some high-level disinfection especially if you and your whole family (kids and pets included) are staying in the house while it's being renovated. You can use disinfecting wipes for kitchen surfaces and items like forks and knives. Sweep the floor and vacuum carpets. Don't forget to change or clean the filter of your vacuum after each use.
Contractors recommend using HEPA vacuum filters which exhaust much less dust back into the air. Cover air vents and clean your HVAC air filters regularly as well. You may need in-depth duct cleaning service especially after the renovation has been completed to ensure that your HVAC system is clean and remains functional.
4. Ventilate your home.
You want to ensure proper ventilation around your home during and after the renovation, especially when applying paints or finishes, installing floors or carpets, or doing any other tasks that eliminate toxic fume or gas. After the renovation work is done, open doors and windows to allow fresh air in and polluted air out of your house.
5. Employ proper storage and disposal of VOC-containing products.
If you have remaining paints and other construction products that contain chemicals, make sure to store them properly in sealed containers. If you don't think you will need them soon enough, consider selling or giving them away.