Utilizing One Camera Versus Multiple Cameras in Your Video Production
When shooting a new video project, one of the first decisions made is whether it will be multi-cam or single cam. Both strategies have their benefits depending on situation and context: multi-cam offers the freedom to switch between multiple points of view in a single setting, while single cam creates a more cinematic feel. By identifying your needs and your desired end product, you should be able to determine whether multi-cam or single cam is right for your project.
Multi-Cam Shooting: Fast, Affordable and Simple
Multi-cam shooting is often used for event coverage, interviews and other live events. In a multi-cam setup, two or more cameras are placed throughout a set. In the case of an event, cameras may even be in separate rooms. The end result is that the video can switch between these different perspectives throughout the process of recording. In an interview, a multi-cam setup may be used to switch the focus between speakers. In event coverage, a multi-cam setup may be used to switch between different perspectives of the same event
Shooting with multiple cameras is usually less expensive than shooting on a single camera. The shooting can be done quickly because the cameras do not need to be moved or positioned throughout recording, and it eliminates the need for multiple takes to capture a scene from a different angle. However, shooting with multiple cameras can also be seen as restrictive, because the set needs to be positioned and created to accommodate them. As an example, one might look towards sitcoms which have a multi-cam setup. Commonly, an apartment or house is only viewed from a specific angle. It can only be viewed from that angle because there is no wall there — just a camera.
Multi-cam shooting lends itself particularly well to live event coverage. A good example of a multi-cam shooting would be at a sports event. It would be prohibitively difficult to shoot a live event with a single camera, as it would be impossible to know when a recordable event was occurring. With a multi-cam setup, the entirety of a live event is recorded and the data can then be worked through in post-production.
Single Cam Shooting: Cinematic, Controlled and Clean
Single cam shooting is most often used for commercials, promotional videos, training lessons and other similar media. When a person thinks of a movie rather than a television sitcom, they are usually comparing single cam with multi-cam. In a single cam setup, one (or occasionally two) cameras are positioned for each scene, but they are not installed permanently within the environment. Single cameras often move during shooting, with the use of dollies and tracking devices, and provide a more cinematic feel to the resulting video. Movies, dramatic television shows, commercials and music videos almost always use single camera shooting rather than multi-cam shooting.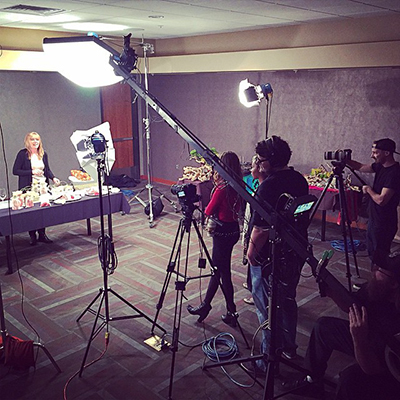 FILM GLOSSARY
AERIAL SHOT: An exterior shot taken from a plane, crane, helicopter or any other very high position. Also referred to as a BIRD'S-EYE VIEW
ANIMATION: A form of filmmaking which consists of photographing individual drawings (cels) or inanimate objects (such as puppets or clay figures) FRAME by frame, with each frame differing slightly from the one before. When the images are projected at 24 frames per second, they appear to move (or are animated)
ASPECT RATIO: The ratio of the projected image's width to its height. The standard for Hollywood theatrical releases is 1.65:1. Shapes may vary, from the television standard, a nearly square ratio of 1.33:1 to a very long rectangle. In the l95Os, Hollywood attempted to attract new audiences by developing various kinds of widescreen systems, such as CinemaScope and Cinerama, which average 2.35:1. The European ratio is 1.66:1.
ASYNCHRONISM: A disparity between what is seen and what is heard. At its extreme, asynchronous sound is contrapuntal; that is, the sound contrasts with the image. For example, you see a train arriving while you hear a bird chirping. Contrapuntal or asynchronous sound was supported by Sergei Eisenstein as part of his larger theory of dialectical montage.
AXIS OF ACTION: In CONTINUITY EDITING, the imaginary line that passes from side to side through the main actors, defining the spatial relations of the scene. The camera is not supposed to cross the axis at a cut and reverse the spatial relations. Ensures constant screen space and constant screen direction. A term used in film production more than as a term in film analysis.
CAMERA MOVEMENTS:
CRANE SHOT: A HIGH ANGLE, moving shot photographed from a crane (a mechanical arm which carries both camera and camera operators).
DOLLY, TRUCKING, OR TRACKING SHOT: A shot taken from a moving dolly (a platform on a set of wheels). when the camera moves towards the subject, it is a "dolly in.0 when it moves away from the subject, it is a "dolly back" or a "dolly out.0 With the use of Steadicams and other mobile cameras, a moving camera may not be mounted on a dolly in order to achieve the same smooth effect. one of the early effective uses of the Steadicam is in Stanley Kubrick's The Shining, where the camera follows characters through the maze of the hotel.
PAN: A shot taken when the camera stays in one place (on a tripod, for example) but rotates or swivels horizontally. compare DOLLY SHOT, in which the camera moves bodily from one place to another.
SWISH PAN: A rapid pan that results in a blurred image. It usually begins and ends at rest.
TILT: A shot taken when the camera stays in one place (on a tripod, for example) but rotates or swivels vertically.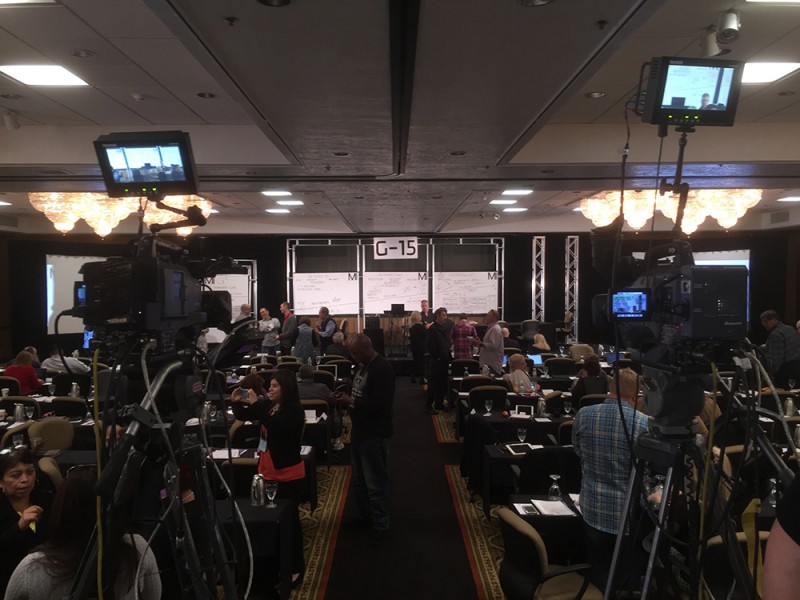 Who owns the footage?
I've been acting in a collaborative TV Pilot in which everyone gave their time and talent for no pay. Now the writer has had a major falling out with the producers and is telling them thay can't use any of the footage shot. There were no contracts signed between any parties, and the producers made it very clear they are a start-up, so don't have any money. Can the writer derail the whole thing in this way?
The footage itself belongs to the producers, the right to the content of the footage will be harder to determine. It's a pilot, won't be exhibited, and if the writer is no longer on board the series can't be commissioned on his work anyway. Can you resolve the dispute with the writer ? If not, learn from it and get agreements in place next time. The legal ins and outs are largely moot if you haven't got money to sue/defend over a pilot, get a new writer, there are many.
The actual tapes belong to who paid for them – which I presume is the production company. There is a myth amongst cameramen that they by default they hold the copyright to the footage they shoot, which is mostly untrue. By default, copyright is vested in the director and producer and they need to assign or licence that copyright for the footage to be useable.
If the the footage is based on a piece of writing then there is an underlying copyright in the screenplay. Without a release, I'm afraid what's been shot is not useable in a commercial way (and probably in non-commercial ways too) without the writer signing a contract
The Copyright, Designs and Patents Act 1988 does indeed attribute default copyright for the finished film (as a single entity) but that does not confer Copryright ownership of the component parts.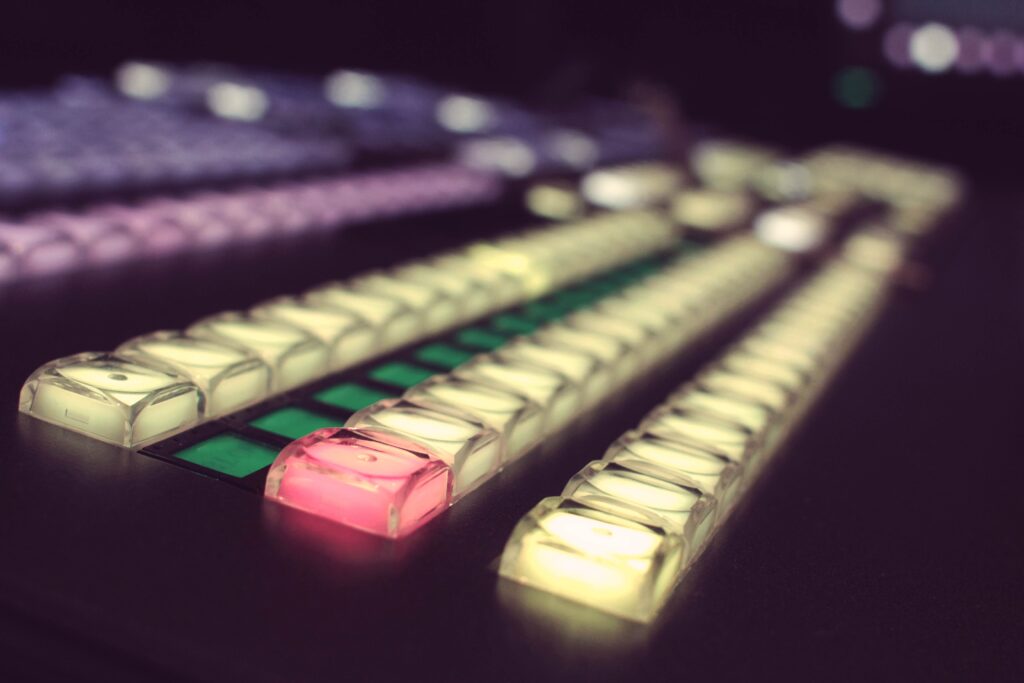 TIPS FOR VIDEO TECHNICAL DIRECTING IN A LIVE CHURCH PRODUCTION
I do a lot of technical directing in my church's productions. I also have the privilege of teaching newer directors the basics of directing. I figured I would share the main tips that I teach all my new new directors. This article is great for new directors, and also good for experienced directors who just like to read random people's rambling articles.
tips for Video Technical Directing in a live church production
When working in a live church production, there are many roles required to pull everything off. One of the most important roles in the video department is that of the technical director. The technical director is the person calling shots and putting up the camera feeds on the big screen. They're kind of a big deal, so it's very important that the director is trained and always on-point with the flow of the service.
The point of a live video production is to convey the worship atmosphere to anyone watching the video. The viewer needs to feel like they are part of the live congregation and get a similar worship experience. So, how do you, the director, accomplish that?
Always be thinking ahead.
It is your job to know what is happening before it happens.
This is one of the most important and obvious things that a director needs to know. As the director, it is your job to know what is happening before it happens. If there is a solo coming up, you need to have a camera ready on the soloist BEFORE they start the solo. If someone is about to speak from stage-left, get a camera on them BEFORE they start speaking. You need to always be one step ahead and think about where your cameras need to be to capture the moment.
Be specific.
What does this mean? Here is an example: you're directing and you see a guitar solo coming up after this chorus, and you know you need a guitar shot. Most new directors just naturally say, "Somebody get the guitar." Then, every camera gets the same guitar shot. Now, all of your cameras are redundant and not usable.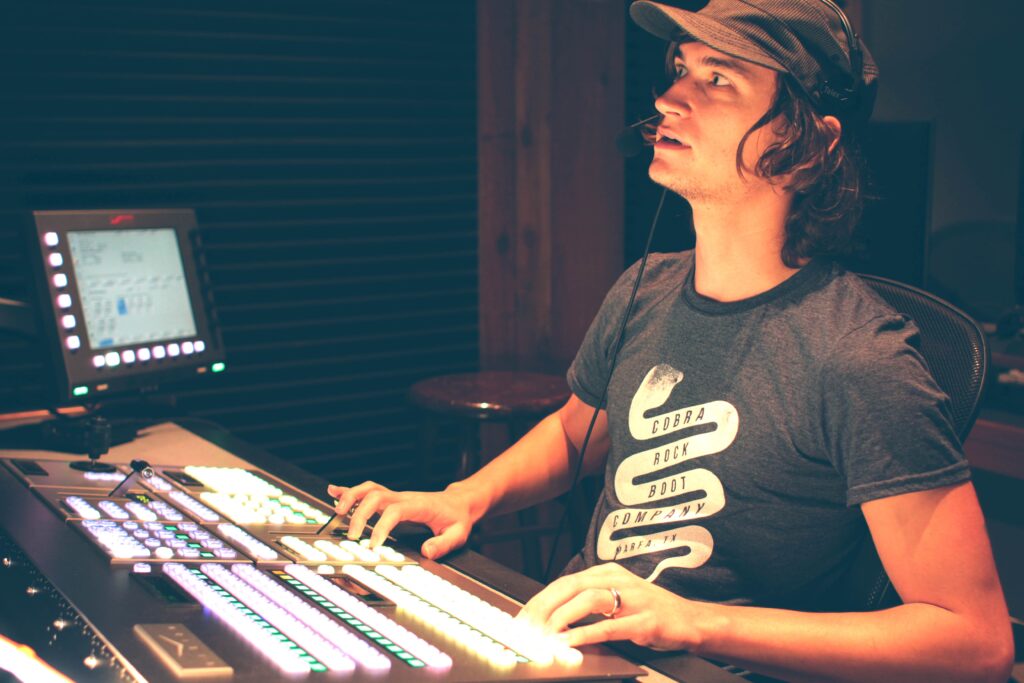 LIGHTING ASSISTANT
AN OVERVIEW OF THE ELECTRICAL DEPARTMENT
The Electrical Department provides the lighting for any production that wants to use more than natural available light. The department works closely with the Director of Photography in order to fulfil his/her creative vision for the production's lighting. The electrical department also works closely with lighting companies, who usually supply equipment for commercials, film and TV productions. The Electrical department safely rig and set lighting in line with the Director of Photography's plan and then de-rig the equipment before returning it to the lighting company.
Head of the Electrical Department is the Gaffer. The Director of Photography (DOP) or Camera Operator (on small scale productions) head up the Camera Department. The DOP is in charge of the overall look of the production. The Gaffer (also know as Lighting Director) is responsible for designing and executing the lighting plan. They will provide the power needed for for the lights, and work with the Grip to shape the light.
Once a DOP has chosen their prefered Gaffer, he/she will come on board in preproduction and attend prep and production meetings. Sometimes the grip and electric departments will be given a couple of days or even weeks of prep for a project. This time is needed to do several things that will make life easier while on the project. On a high end TV drama production – this time is used to read the script, watch any look references supplied by the DOP, discuss the lighting approach, equipment needed and schedule.
The Gaffer will work on equipment lists which are analysed by the Production Manager/Co-ordinator who try to make everything on the list a reality by liaising with lighting companies to get the best deal on the kit list. If the shoot involves a lot of lighting, the kit will include a generator (genny) and a large truck to transport everything to the shoot location. Any electrician tasked with driving a truck or genny needs to have a HGV licence – and liaise with the Location Manager in advance of travel in case they need to check the weight-bearing capacity of any bridges on route.
The fully assembled Electrical Department are present through principal photography and they use a range of equipment, a lot of which is rather cumbersome and bulky. Lighting equipment may include HMI, Tungsten, Fluorescent, and a menagerie of stands, scaffolding and accessories to support these different lighting options. High budget Dramas sometimes require lighting balloons (large inflatable lights which shed a soft overall light – great for ballroom and courtroom scenes). The team may be required to build a 'tent' around a doorway using scaffolding and blackout drapes – if you're shooting a night scene during the day.